About us
collaborative | multidisciplinary | storytellers
Curious and collaborative, we use left-brain planning and right-brain artistry to develop unique healthcare communications. Specializing in medical and scientific illustration, writing, marketing, advertising, media outreach, Web design and social media, we help clients develop the right message for the right audience.
Glia Media is a division of the Mayfield Clinic, a leading neurosurgery practice in Cincinnati, Ohio. Our creative team functions as a full-service marketing and design studio, with expertise in the topics of spine and brain surgery, neuroscience, otolaryngology, and neuroradiology. We work across a broad spectrum of health and science industries, including biotech, hospital, academia, pharma, medical-legal, advertising, and publishing. We are medical writers, journalists, public relations specialists, web designers, branding and business strategists, and medical illustrators.
Download our services brochure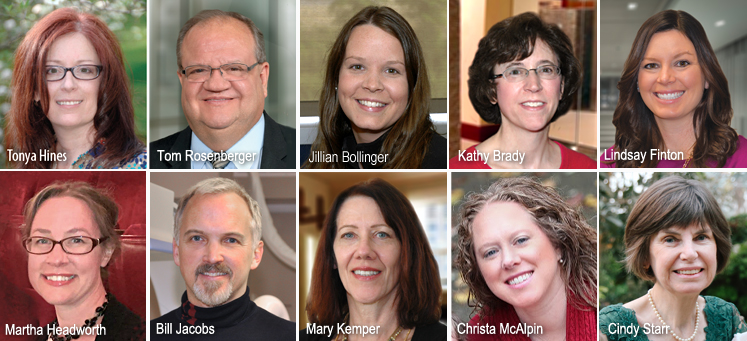 we integrate the collective wisdom, creativity, and strengths of each individual to your project
Tonya Hines, CMI
Tonya is a board-certified medical illustrator and art director. She has over 20 years of experience in biomedical communications, health literacy, patient education, and academic publication. Tonya is President-elect of the Association of Medical Illustrators.
---
Tom Rosenberger, APR
Tom is a healthcare communications and business development professional. His 29 years of experience in marketing and media strategy includes work at Procter & Gamble, Good Samaritan Hospital, the American Cancer Society, and the University of Cincinnati.
---
Jillian Bollinger

Jillian has held a variety of healthcare positions throughout her career and brings that experience to her role in project logistics, event planning, marketing, and fulfillment
---
Kathy Brady
 Kathy has been with our team for nearly 20 years and has special expertise in corporate communications, internal campaigns, esprit d'corps, and logistics.
---
Martha Headworth, MS
[
behance
]
Martha is a medical illustrator and designer.  She has developed medical visuals and elegant designs for marketing campaigns and brand strategies for over 15 years. Martha is a member of the Association of Medical Illustrators.
---
Bill Jacobs
Bill is a multimedia professional with more than 25 years of experience in video, web design, social media and interactive production. Bill has worked for clients such as Procter & Gamble, Quaker State, Purdue University, and NIOSH.
---
Mary Kemper
Mary is an AMWA-certified medical writer and editor. She has over 20 years experience in journal publication and peer-review management. Mary is a member of the American Medical Writers Association.
---
Christa McAlpin
Christa is a marketing and public relations specialist. She has over 12 years experience in event planning, program development, CME, exhibit/grant applications, and budget management. She also has experience in webinar development and online education.
---
Cindy Starr, MSJ
Cindy is an experienced healthcare writer and editor whose 25 years in newspapers included work at the Cincinnati Enquirer, USA Today, and the Cincinnati Post. With a master's in journalism, she is an assertive media relations specialist who embraces blogging and social media.
---
Lindsay Finton
Lindsay is a physician liaison who is well-versed in the complexities health providers face trying to contain costs while increasing patient quality outcomes. Her diverse market knowledge combined with her research analysis experience, results in identifying a unique communication strategy that directly impacts your organizational growth.
---
Awards
eHealthcare Leadership Awards
- 2013 Gold Award in Best Marketing Campaign for 75th Anniversary Campaign Web Health Awards
- 2013 Merit Award for Overall Website
- 2013 Gold Award for Hope Stories
eHealthcare Leadership Awards
- 2012 Platinum Award for Best Health/Healthcare Content
- 2012 Gold Award in Best Overall Internet Site
MarCom Awards
- 2011 Gold Award in Blog Category
- 2007 Honorable Mention in News Release Category
- 2007 Gold Award in Web Site Category
- 2007 Platinum Award in Brochure/Handbook Category
- 2006 Honorable Mention in Magazine Media Placement Category
- 2006 Gold Award in Marketing/Promotion Campaign Special Event
Communicator Awards
- 2012 Award of Distinction in Corporate Identity Category
- 2012 Award of Distinction in Billboard Advertising Category
- 2009 Award of Excellence in Print Category
- 2009 Award of Distinction in Interactive Multimedia Category
- 2007 Award of Excellence in Feature Article Category
- 2007 Award of Distinction in Technical Category
- 2007 Award of Distinction in Program to Market Products Category
Health Information Awards
- 2007 Gold Award for Newsletter Article Association of Medical Illustrators Salon
- 2001 Award of Excellence in Medical Atlas Category
- Award of Excellence in Medical Color Category
- 1994 Award of Excellence in Medical Atlas Category
- 1993 Certificate of Merit in Medical Color Category